Fair Use Disclaimer
---
Neighborhood Transformation is a nonprofit, noncommercial website that, at times, may contain copyrighted material that have not always been specifically authorized by the copyright owner. It makes such material available in its efforts to advance the understanding of poverty and low income distressed neighborhoods in hopes of helping to find solutions for those problems. It believes that this constitutes a 'fair use' of any such copyrighted material as provided for in section 107 of the US Copyright Law. Persons wishing to use copyrighted material from this site for purposes of their own that go beyond 'fair use' must first obtain permission from the copyright owner.
Miami Times - April 2, 2015
No turning back on Liberty Square
HUD Director Michael Liu said elections will not disrupt rehabilitation plans


The Liberty Square development plan will go on even if Miami-Dade Mayor Carlos Gimenez loses his job in 2016.

That's what the head of Miami-Dade's Public Housing and Community Development Department (HUD) Michael Liu said in a recent meeting.

"The county commission already unanimously approved this project," said Liu. "Of course there can be political changes but I doubt it will affect this project. There are too many contracts. Legally it would be difficult to change course. Elections do have consequences but we believe the mayor will be back in 2016."

The Liberty City Rising project, which includes razing and rebuilding Liberty Square and constructing temporary housing for current residents at Lincoln Gardens, will be paid for through General Obligation Bonds ($32 million); money from document taxes ($6 million); and $8 million from the Capital Fund Financing Program.

Liu said the only part of the project that could be affected if there were a change in the mayor's office is a housing for working class rental program ($19.4 million); a homeowner's program ($7 million); and other capital improvements ($1.8 million).

The project is expected to break ground within two years and will take four to five years to complete.

Still, the $74 million project has Liberty Square residents and county officials alike on high alert.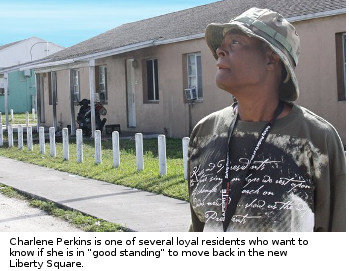 Miami-Dade County Commissioner Xavier L. Suarez, who has said he plans to run for the mayoral seat in 2016, said in what he calls an X-Plan for Housing, that the rehabilitation of Liberty Square must include five basic requirements: safety/surveillance, a safe harbor for single mothers, a rent-to-own housing program, sustainable landscaping and a plan to avoid displacement of current residents.

"Creating a safe environment around affordable housing is my first priority for all residents of Miami-Dade County who are in need of housing assistance," said Suarez in the memo. "These five standards for Liberty Square and all future housing developments will ensure that Miami-Dade County does not repeat its mistakes, but instead creates housing communities that enhance the quality of life for all of its residents."

Mike A. Hernandez, spokesman for the mayor, said he appreciates Commissioner Suarez's input but "the mayor didn't hire Michael Liu to play politics."

"The mayor sees a need and he is trying to solve it. We have a new director who has come in in the last year and he has the initiative that we believe will improve security and quality of life for the residents," Hernandez said.

Liu said he is close to announcing a major security plan for Liberty Square, which includes cameras, additional law enforcement and Crime Prevention Through Environmental Design.

RESIDENTS' CONCERNS

At a meeting for public housing residents of Liberty Square on Monday, County Commissioner Audrey Edmonson and Julie Edwards, assistant director of the Miami-Dade County Public Housing and Community Development, answered questions from concerned citizens.

Sara Smith, president of the Liberty Square Resident Council, also assured residents they will be taken care of and kept informed.

"Whatever process we're going through, we're going through together," Smith said. "Everybody will have some place to go. No one will be misplaced. We're going to make this transition as safe as we can. Every human being should have decent housing to live in."

Edmonson said potential developers applying to spearhead the project not only must have experience but be able to provide employment opportunities for residents living in the area.

"I am committed to the residents of Liberty Square, Liberty City and Brownsville," Edmonson said. "Developers have to come up with a proposal that will offer jobs to people in my community. This team has to represent my community."

Barbara Johnson, who lives in Liberty Square, said she came away from the meeting more at ease.

"My biggest concern was being put out in the streets," she said. "This meeting has eased those fears."