Neighbors and Neighbors Association, Inc.


LIBERTY SQUARE PUBLIC HOUSING




SMALL BUSINESS PROGRAM




BACKGROUND
: Liberty Square Public Housing, which was once a army base, is the oldest public housing complex in the southern district. During the days of segregation people of color could not venture outside the wall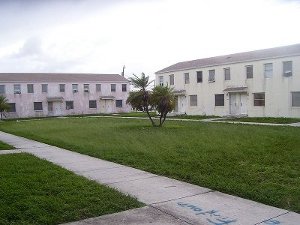 after sun down unless they had a pass. Now the high unemployment rate, murder and street level drug sells has all but destroyed the moral of this community. NANA understands the needs of the community and believe that by providing economic opportunity to these individuals we can help to instill pride back into the most underserved residents of Miami Dade County. NANA believes that economic development, specifically the creation of jobs through small business activities is a way to alleviate some of the hopelessness. We believe if you provide some of the residents with small businesses and the tools needed for success you will in time create new jobs for individuals in the local community. To that end NANA is implementing a pilot micro loan and grant program geared to residents in the Liberty Square Public Housing Facility.
PILOT MICRO LOAN AND GRANT PROGRAM
NANA has created within its existing loan and grant program a sub-program geared to provide financial and technical assistance to residents of this public housing facility that have the desire and drive to start a small business. The program will have four phases
Phase 1
esidents of Liberty Square Public Housing Facility will be given an opportunity to develop and present their idea for a business venture to a selection committee. If their idea is chosen a plan will be developed to assist the individual in preparing a business plan. Additionally, based upon the individual's education, business knowledge and work history a training program will be developed to assist them in understanding what they will need to do to be a success. Resources from other agencies and organizations will be utilized to aid the individual in becoming a success. As you are aware there are many groups both public and private that maybe able to assist from Miami Dade College to SCORE to IRS to Florida Department of Revenue to The Carrie P. Meek Business and Technology Development Corp. Part of our function will be to coordinate these varied services into a focused training program geared to assist the individual and their business.
Phase 2
A business plan will be developed by the participant with assistance from one of our service partners Dr. Philip Mann, Director of the Entrepreneurial Institute at Barry University. The business plan will include time lines for completion of tasks associated with developing and operating the business. The plan will also develop a pay-out or disbursement schedule. After the business plan as been developed and reviewed a loan/grant package will be completed and submitted to the Credit Committee. If the package is approved, legal documents will be prepared and executed. The loan/grant will be set up for disbursements in accordance with the requirements contained in the business plan. The loan funds maybe used for location expenses, equipment, supplies, inventory and other business needs. Funds may also be used for training and software for a computer, if applicable. The selected owner will be given a loan payment waiver of two year.
Phase 3
This phase will begin after the funds have been disbursed. We will continue to monitor the individual on a daily to weekly basis. We will provide or make available resources that maybe needed in order to make the project a success. Business mentors will be made available to the participant for advice and counsel.
Phase 4
To assist us in publicizing this project NANS has partnered with the Miami Times newspaper. The Miami Times has agreed to provide the public with up-dates on the progress of the business. They will highlight the public housing resident's background, achievements and progress in its newspaper. We hope this example of a successful public housing resident will inspire others and provide them with a glimmer of hope.
IMPACT
The pilot program will increase the participant's self-esteem and self-worth. The program can help the participant to become less dependent upon the government and more self-sufficient. This program will help your local governmental agencies by increasing the employment opportunities for public housing residents. We will keep the county and the city departments informed throughout the entire process and will welcome any suggestions or comments for the betterment of the program.
SIDE NOTE
NANA's Executive Director, Leroy Jones, grew up in public housing and was given and opportunity to better himself. He would like to provide that same opportunity to others. To help individuals to be better than people expect them to be. Mr. Jones plans to be personally involved in this project from beginning to end.
---
CLICK HERE
for the history of Liberty Square (a/k/a "Pork 'n Beans")